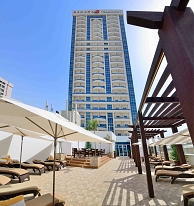 Lebed Anna
Cluster Sales Manager
Ramada Hotel & Suites Sharjah / Ramada Plaza Jumeirah Beach
Contact details
Address: Al Nahda street, 115, opposite the Sahara Mall, Sharjah, UAE
Fax: +97165259808
Useful links
Participate together with:
Pay less, fly more!
Air Arabia is the first and largest low-cost carrier in the Middle East, offering comfortable, reliable and value-for-money air travel. Established in October 2003, Air Arabia was the first airline to introduce the low-cost carrier concept in the region. Since then, low-cost flights have become the preferred travel choice for millions of customers.
Welcome to visit
A Style To Remember.
Al Bait Sharjah, the new luxury resort to be managed by General Hotel Management Ltd (GHM), is set to raise the bar for luxury hotel accommodation in the United Arab Emirates' (UAE) cultural city while adding interest and vibrance to the historic inner-city precinct in which it is situated, when it opens at the beginning of next year.
Welcome to visit
Al Khalidiah Tourism company is 21 years in the market. The company is among the first 5 leading companies in UAE.
Welcome to visit
Hotel located in the heart of Sharjah and is a striking landmark on the Corniche Road, overlooking Khalid Lagoon, with 255 guest rooms, while being 20 minutes away from both Dubai and Sharjah International airports.
Welcome to visit
Hilton Sharjah is a 5-star hotel, overlooking the magnificent Khalid Lagoon, located in the heart of the Emirate and 20 min drive from Dubai Airport.
Welcome to visit
Welcome to sun, sea and sand
Exclusive brand of hotels with close proximity to the international airport of Sharjah and Dubai international airport and all major nodes of Sharjah and Dubai.

The following are the properties of MH Group of Hotels.
1) Sharjah Carlton Hotel (4 *)
2) at Golden Beach (3 *)
3) Beach Sharjah hotel (3 *)
4) Nova Park Hotel (3 *)
Welcome to visit
The Hotels designed to say YES!
5* Beach resort with 300m private beach, 4 temperature controlled swimming pools and standard rooms overlooking the beach. Ideal destination for families, holiday makers and business travelers.
Welcome to visit
Established in 2001, Sharjah Airport Travel Agency is owned by Sharjah International Airport Authority, government of Sharjah. SATA has 15 branches across the UAE. We have always maintained forward thinking strategy leading with technology advancement in the travel industry and maintaining superior customer focus.
Welcome to visit
Sharjah made aviation history in 1932, when the first flight landed at the Al Mahatta runway. Since then, Sharjah International Airport, through a series of path breaking initiatives, has become a world class modern international airport. SIA has an open sky policy, which allows airline traffic from all over the world hassle-free access to the airport.
Welcome to visit
A FRIENDLY WELCOME, GUARANTEED
Over the years, Sharjah National Hotels has become an integral part of Sharjah's tourism offering.
Each property is uniquely positioned to offer a resort that meets the needs of all guests traveling to the region - staying in Hotel Holiday International an urban retreat in Marbella Resort, to a relaxed beach vacation at Oceanic Khorfakkan Resort & Spa.
Welcome to visit
2A2501