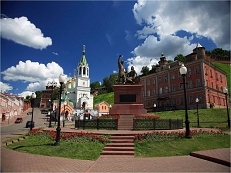 Nizhny Novgorod Region is a land of legends and crafts. The main types of tourism are business tourism, cultural tourism, wellness tourism, pilgrimage tourism, cruise travel, event tourism, food tourism, ethnographic tourism, adventure tourism, eco-tourism, child tourism, family tourism, educational tourism, hunting and fishing, responsible tourism. The key tourist destinations are Nizhny Novgorod, Gorodets, Semenov, Svetloyar, Chkalovsk, Volodarsk, Makaryevo, Lyskovo, Arzamas, Diveyevo, Bolshoye Boldino, Vyksa, Bogorodsk, Pavlovo, Vetluga, Bor. The unique sights of the region: Kremlin (XXth), Nizhny Novgorod Fair (XVIth), Chkalovskaya staircase (XXth), cable way (included in the European record book), Serafimo-Diveevsky Monastery, Pushkin's museum in Bolshoye Boldino, the Svetloyar lake and a muthical city of Kitezh, a natural park "Voskresenskye Povetluzhye", an underground museum of mining, geology, caveology in the producing mine, Makaryev Convent on the Volga River. There are also resorts at Gorky Reservoir and in Zeleny gorod (a small town in Nizhny Novgorod Region).
Video
Contact details
Address: Nizhny Novgorod Region, Nizhny Novgorod, Kremlin, building 10
Fax: +7 (831) 435-60-61
Useful links
Participate together with:
AZIMUT Hotel Nizhny Novgorod is a modern 3 star hotel in the city center, where you can enjoy an amazing view of the famous Strelka - the confluence point of the Volga and the Oka rivers. 10 minutes' drive from the railway station and the Kremlin. 157 rooms, SMART Living Lobby, Wi-Fi, breakfast, conference halls.
Welcome to visit
Follow the Leader!
We are in tourism since 1994. We organize tours and journeys to anywhere in the world. Group and individual tours, sea cruises, excursions in Russia and abroad.
Welcome to visit
Quality hotel at a reasonable price!
Hotel "Russian Capital" is a modern hotel complex located in the largest and dynamically developing district of Nizhny Novgorod - Avtozavodskiy.
Welcome to visit
Tour operator at N.Novgorod and Nizhny Novgorod region. Group, teams and individual tours.
Welcome to visit
Nizhegorodskaja kruiznaja kompanija «GAMA» rabotaet v sfere vnutrennego turizma s 1994 goda. Na segodnjashnij den' v sobstvennosti GK «GAMA» devjat' turisticheskih teplohodov, zagorodnyj otel' «Volga». Kruiznaja kompanija GAMA

Welcome to visit
Our main goal is to create a place where everyone will have free access to information.
Welcome to visit
From small to large travel. Escape from everyday life!
Transport-Tourist Company of Olga Romanova, a leading international multi-tour operator for domestic, inbound and outbound tourism – on the market of tourist services since 1998, register number of tour operator MW 005375. Our travel company is the leader in its segment, offering bus tours of Russia and Europe. Among our numerous clients foreign tourists, guests of the Nizhny Novgorod region, the Nizhny Novgorod region of Moscow, Vladimir, Sochi, Adler, customers from other regions and cities of Russia, St. Petersburg, Kazan, Ryazan, Voronezh, Orekhovo-Zuevo, Moore.We are trusted by public and private entities: ANO "Olympic Committee", OAO "Ingosstrakh", OAO "LUKOIL", OJSC "Gazprom", OJSC "Sberbank of Russia", OAO "SIBUR", JSC "Russian Railways", the Patriarch of the Nizhny Novgorod region, Nizhny Novgorod regional Government, the Government of Moscow, administrations of cities of Moscow suburbs.
Welcome to visit
2C1401