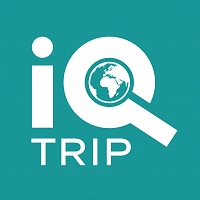 The Internet platform IQTRIP.RU will help you in building of the digital tourism in any region of Russia, and beyond.


What is IQTRIP.RU ?


It is a convenient technological service for traveling for tourists;


The centralized source of information about the area where iqtrip.ru is connected in, about life, attractions, food, culture, excursions and entertainment, hotels and other accommodation facilities;


Simple system of payment for services and cancellation of booking;


For business - it is a convenient system for managing reservations and orders, as well as a convenient way of communicating with customers;


A new channel for attracting tourists via Internet and also a technological way to promote products and services of hoteliers, entertainment representatives, restaurant business, etc.


From the Founders: «One of the best experiences of work with our platform IQTRIP.RU is the finding of connections and points between tourists and representatives of the touristic industry.


We offer you not only standard online hotel booking service, we try to propose you not only with «one—size-fits-all» but the approach with user friendly interface, flexible desktop for hotel staff for managing orders queue, it allowes your business to increase your income, reduce your costs and attract a large number of new customers.


IQTRIP.RU is not just another way to advertise and book, it's a new way of thinking and a modern way of community within the language of digital and tech in the 21st century.


We are preparing a generation of "Z", and we simplify life for generations "X" and "Y" to plan their trips.


We show you how it should be done correctly, easily and quickly today».


We are ready for cooperation:


· With information partners (off-line, on-line);


· With representatives of the hotel business, representing Apartments, Hotels (3,4,5 stars), Hostels, Recreation centers, Sanatoriums, Bed and Breakfast;


· With tourism ministries of Russian regions, tourist operators' associations;


- with air carriers and service companies that provide transportation and vehicles.
Dmitry Tsarev




Chief Execitive Officer, Chief Technical Officer, Founder




IQTRIP.RU
Lapushkin Paul




Director of development, Managing director, Co-founder




IQTRIP.RU
Video
Contact details
Address: Russia, Republic of Crimea, 295024, Simferopol, Gen. Gen. Vasilyeva, bld. 43, office 238
Useful links
2B1601